What's happening with your Collective Bargaining Agreement
Recently Settled
City of Bellingham
On December 12, 2019, members of the City of Bellingham Supervisory and Professionals Unit overwhelmingly ratified a three (3) year successor agreement. The agreement includes improvements to the salaries of several positions based on a compensation study and in addition, provides each position with a 3.25% Cost of Living Adjustment (COLA) each year of the agreement. Other improvements include clarity in the use of "flex time", as well as accrual of vacation and sick leave based on compensated hours verses hours worked.
---
Morse Distribution
On November 1, 2019 the bargaining unit at Morse voted to ratify a four (4) year successor agreement which includes language improvements, significant wage rate increases, and an increase in the employer/employee matching contributions for the Company 401K plan. Congratulations!
---
Bellingham School District Teamsters
Business Agents Heather Ewing and Gunnar Birkeland are proud to announce Bellingham School District Teamsters overwelmingly ratified a new three-year agreement on July 22, 2019 This new contract represents significant language improvements and unprecedented wage increases for the group. It couldn't have been accomplished without the huge commitment from the Negotiating Committee of Dave Vanderyacht, Vicki Bradford, Betsie Upton, Staci Michaelson, Patty Johnson, and Joel Barker. Great things can be accomplished when we stick together and speak with one voice!
---
EPL Feed Teamsters Ratify a new contract!
On June 30, 2019, the members of EPL Feed members met and ratified a new one year agreement that included a move to the Washington Teamsters Health and Welfare plans in January of 2020, as well as historic wage improvements. "The Company is looking at the future of the industry and working toward preparing the workforce for modernization, and with that they are making large investments in their employees," said Heather Ewing, Lead Negotiator and Business Representative at Teamsters Local 231.
---
Sanitary Service Company (SSC) Shop Ratifies New 5 year Agreement: June 11, 2019
The SSC Mechanic Bargaining Unit unanimously ratified a 5 year agreement that included several major language improvements as well as historically large wage increases. There were also significant improvements to health & welfare contributions and benefits, including a move to the new Retirees Welfare Trust XL Plan. "This contract was only possible due to the solidarity and strength of these Teamster members and the support of their Brothers and Sisters in the Solid Waste Industry. We are excited about the developments in the Waste industry and look forward to negotiating a strong contract with the Recycling group at SSC later this year" said Rich Ewing, Principle officer at Teamsters Local 231.
---
Twin City Foods contract ratified-
Congratulations to our last two employees of Twin City Foods in Stanwood! On May 28th, 2019, they ratified a one-year contract extension with a nice Cost of Living Adjustment (COLA.) Back in their
heyday, Twin City Foods had over 125 employees processing pees in downtown Stanwood. With the disappearance of farm land on the west side of the cascades, Twin City Foods moved most of
their operations to Pasco but the last two folks just got a new agreement!
---
May 27th, 2019: LTI Freight and Mechanics overwhelmingly ratify a new 4 year contract​
Teamsters Local 231 is happy to announce a new contract with the LTI freight and mechanics at the Lynden facility. Negotiations were very positive and collaborative. The group was able to achieve the goal of moving from the Washington Teamsters Z medical plan to the B plan, an achievement that was long overdue. They also received improvements in their retirement plans and large wage increases. "Both parties realize that the work needs to get done and the members needed wage and benefit improvements," said Business Representative Heather Ewing. The Bargaining Committee, including John Van Wingerden, David Ahrens, and Jeff Davis, worked closely with Heather to come to an agreement that satisfied the members' and the company's needs.
---
SSC Garbage Drivers Overwhelmingly Ratify Extraordinary New 5-Year Agreement
34 Teamsters Local 231 members employed at Sanitary Service Garbage Division met on April 30th at the Union Hall to review and vote on a new 5-year collective bargaining agreement. This new agreement has improvements to language covering vacation, daily guarantees, seniority, discipline, use of technology, sick-leave, and many other areas. It also has significant improvements to health & welfare contributions and benefits, including a move to the new Retirees Welfare Trust XL Plan. The agreement contains economic improvements that are nothing short of astonishing. A full-scale driver will see wage and pension increases of ten dollars per hour by the fifth year of the contract! "These language and economic improvements are not only life-changing for the Teamsters driving the trucks", said Teamsters Local 231 Secretary-Treasurer, Rich Ewing, "but also will allow the Employer to be able to retain and attract the best drivers in the industry, and continue to provide first class service to the local communities."
Theses negotiations, led by Business Representative Heather Ewing, with committee members Don Hughes and Dean Simpson, built off of the recent historic multi-local Solid Waste agreement achieved by Teamsters Locals 174 and 231. This is further evidence that we truly are stronger together.
Now these Teamsters Local 231 members are ready to stand in solidarity with their sisters and brothers working under the SSC Shop and Recycle agreements, as they too negotiate agreements that meet the new standards for the Solid Waste industry in the Pacific Northwest.
---
Northwest Farm Foods Contract Ratified,
On April 28th, 2019, with Secretary Treasurer-Rich Ewing and Business Agent-Gunnar Birkeland presiding, Northwest Farmed Foods Co-op Teamsters ratified a new three-year agreement which increased the starting wage by $1.43 per hour and provides increases of $1.25 for 2019, $0.90 for 2020, and $0.90 for 2021 for the senior employees. This represented a huge improvement over the last three-agreement! The members also bargained in significant language improvements in the document. Congratulations NWFF Teamsters!
---
Whatcom County Master Contract Approved:
We are pleased to announce that the Whatcom County Council has approved the Teamsters Master Bargaining Agreement. Secretary-Treasurer, Rich Ewing and Business Representative, Daron Smith were in attendance at the Council meeting on the evening of April 23rd to witness the members of the County Council vote unanimously to approve the new agreement. It will now go to the County Executive and the Union for signatures. The payments for retroactive wage increases and H&W contributions will be made to the members of the Bargaining Unit in the very near future. The unwavering solidarity of the Teamster membership and the hard work done by the Bargaining Committee during the difficult negotiation process were the keys to achieving this agreement.
---
Milky Way Contract Ratified!
On December 11, 2018 the Milky Way Teamsters Local 231 members ratified a new 3 year contract agreement that included a company paid 401K planthat is in addition to the current Teamsters Pension Plan, a reduction in the costs to the members for the medical plans, protection of the current sick leave benefits and the largest yearly wage increases that the group has seen. In November the group had unanimously authorized an unfair labor practice strike. The company was not bargaining in good faith and refused to add any additional money to retirement. The solidarity of the group allowed them to make several Important gains in this contract. Congratulations to the Teamsters at Milky Way!
---
AGC Contract Ratified!
All AGC local Unions held their ratification meeting on October 21st. After a productive meeting with Local 231s AGC members, the membership present unanimously voted to ratify the offer presented to them. This was the trend of the day throughout our Joint Council, as the offer was overwhelmingly ratified by the AGC membership.
Aside from very significant pay increases in wages and pension over the next three years, this group will also see an improved medical plan in 2019 with any future increases being picked up by the employer for the duration of the agreement. A lot of hard work went into getting us to this point and we would like to thank our negotiations committee and the membership for staying the course throughout the long process in bringing this to a positive and fruitful close.
---
ABF Contract Ratified!
The last supplement to the ABF NMFA has now been ratified. Consequently, the new collective bargaining agreement has been approved and will take effect. Pay increases will be retroactive to July 1 as per the new agreement.
It is the union's understanding that the company will actually implement the new agreement on Sunday, July 29. Also, pay for week ending 7-28-2018 will be processed at the pay rate that includes the July 1, 2018 increase.
Retro pay for weeks ending 7-7-2018, 7-14-2018 and 7-21-2018 will be paid by a separate check processed on or about 8-2-2018, and distributed with the paychecks for the week ending 7-28-2018. The ratification bonus will be processed and distributed within the next 30 days.
On June 13th Lynden Public Works members unanimously ratify a four year contract with, among other gains, 3.25% increases in each of the four years and improving certified premium language. A special thanks goes out to Phil and first time committee member, Josh, for their instrumental and steadfast service to the members throughout negotiations and mediation.
On June 14th Lynden Public Safety members unanimously ratify a four year contract with 3.25% increases in each of the four among other contact specific gains. A special thanks goes out to first time negotiations committee member, Holly, for her invaluable and committed service to the members throughout negotiations and mediation.
On June 13th Lynden City Hall members unanimously ratify a four year contract with 3.25% increases in each of the four years among other gains. A special thanks goes out to first time negotiation committee member's, Linda and Dave, for their invaluable and dedicated service to the members throughout negotiations and mediation.
Bellingham Technical College Teamsters
On Friday, May 11th, Teamsters at Bellingham Technical College overwhelmingly voted to accept a five year Agreement. Many thanks to the members of the negotiating committee: Antonio Coniglio, Tim Hawkins and Kurt Kraft.
ASSOCIATED PETROLEUM PRODUCTS
May 5, 2018: Local 231 Drivers at Associated Petroleum Products in Anacortes unanimously ratify a new four-year agreement. The newly-ratified contract secures improvements to wages and pension, as well as improved Seniority language and preservation of Bargaining Unit work. Over the term of the agreement, wage parity for all drivers was achieved under this contract. There were also improvements in vacations, holidays, sick leave and jury duty. The strong solidarity from the group allowed them to reach the goals that were set out in the proposal meeting.
---
Skagit County: Courthouse, District Court & Parks Membership-
The PERC mediated settlement was ratified by the bargaining unit yesterday. We had the largest turnout in recent memory (maybe ever) and I'm glad so many wanted their voices heard. It was also great to see so many members exercise their right to vote on a contract. It has been a long and arduous road to get to this point, but we are finally here. Now, the numbers….
We had about an 88 to 89 percent voter turnout.
| | | | | |
| --- | --- | --- | --- | --- |
| YES | NO | | $700.00 HRA-VEBA Contribution | $600.00 CASH |
| 85 | 2 | | 60 | 27 |
Thank you all for your support and solidarity during negotiations and through mediation!
Daron Smith
In Negotiations
City of Anacortes
B & P Vending
City of Bellingham Supervisory and Professional
Bimbo Bakeries
City of Blaine
City of Burlington Clerical
City of Burlington Public Works
Cascade Ambulance
Commercial Cold Storage
Darigold
City of Everson Non-uniform
City of Everson Police
City of Ferndale Clerical
City of Ferndale Public Works
Town of La Conner
Miles Sand and Gravel
Morse Distribution
City of Mount Vernon
Sanitary Service Recycling Division
Skagit County Courts, Parks and Juvenile Corrections
City of Stanwood Public Works
City of Stanwood Administrative Employees
Vienna Cleaners
Whatcom County Corrections
ups
Leaders of local unions that represent UPS Teamsters met on August 9th in Chicago and approved the tentative national agreement, paving the way for members to vote by electronic ballot starting next month.
Regarding the UPS tentative agreement, "Today's vote was a very strong indication of the support nationwide from local union leaders and it sends the national agreement, regional supplements and riders to the members for a ratification vote," said Denis Taylor, Director of the Teamsters Package Division and Co-Chairman of the Teamsters National UPS Negotiating Committee. "This agreement provides all our UPS members with tremendous gains in wages, benefits and working conditions and excellent opportunities for part-time workers to gain full-time employment."
UPS Explanatory Meeting has been scheduled for August 12, 2018 at 9AM at the Teamsters Local 231 hall (1700 North State Street Bellingham, WA). At this meeting, we will be explaining the full contents of all three agreements covering UPS Teamsters at Local 231: the National Master UPS Agreement, the Western Region Supplement, and the Joint Council 28 Rider and Sort Addendum.
It is important to attend the Explanatory Meeting before casting a ballot so that you can hear the full rationale behind every part of the Agreement — directly from the people who negotiated it.
June 5, 2018 UPS Strike Authorization Vote results have been revealed. UPS: 93.19% voted YES to authorize strike. A strong YES vote on the strike authorization shows the Company the power of our solidarity and gives the Negotiating Committees the leverage needed to get theses negotiations moving in the right direction. Here is a link to more information from the International Brotherhood of Teamsters website: https://teamster.org/news/2018/06/ups-ups-freight-members-authorize-strikes-if-necessaryVoting is underway for a strike authorization vote at UPS.
Photos below show Teamsters Local 231 members at UPS Bellingham and Burlington Centers showing their solidarity.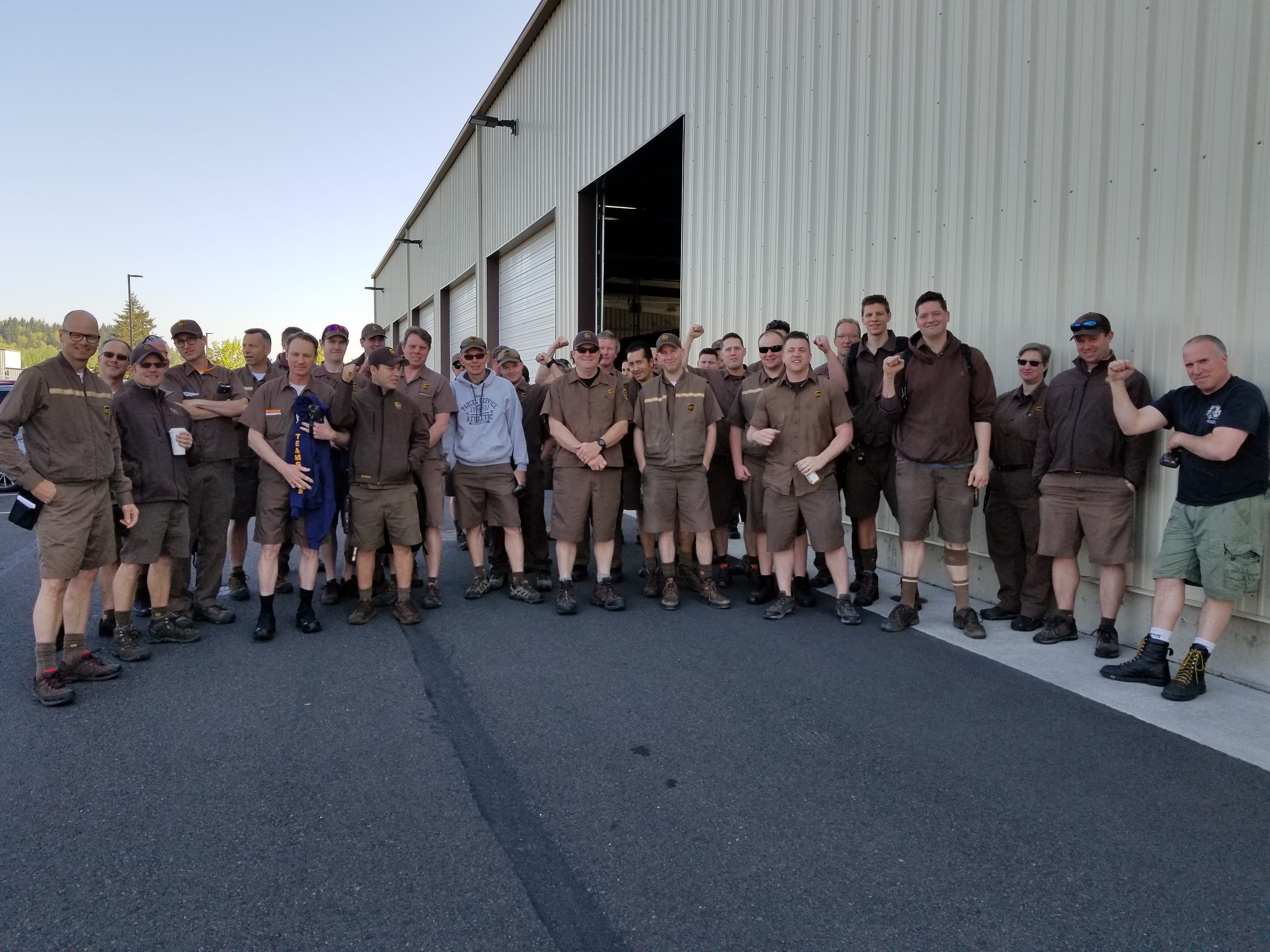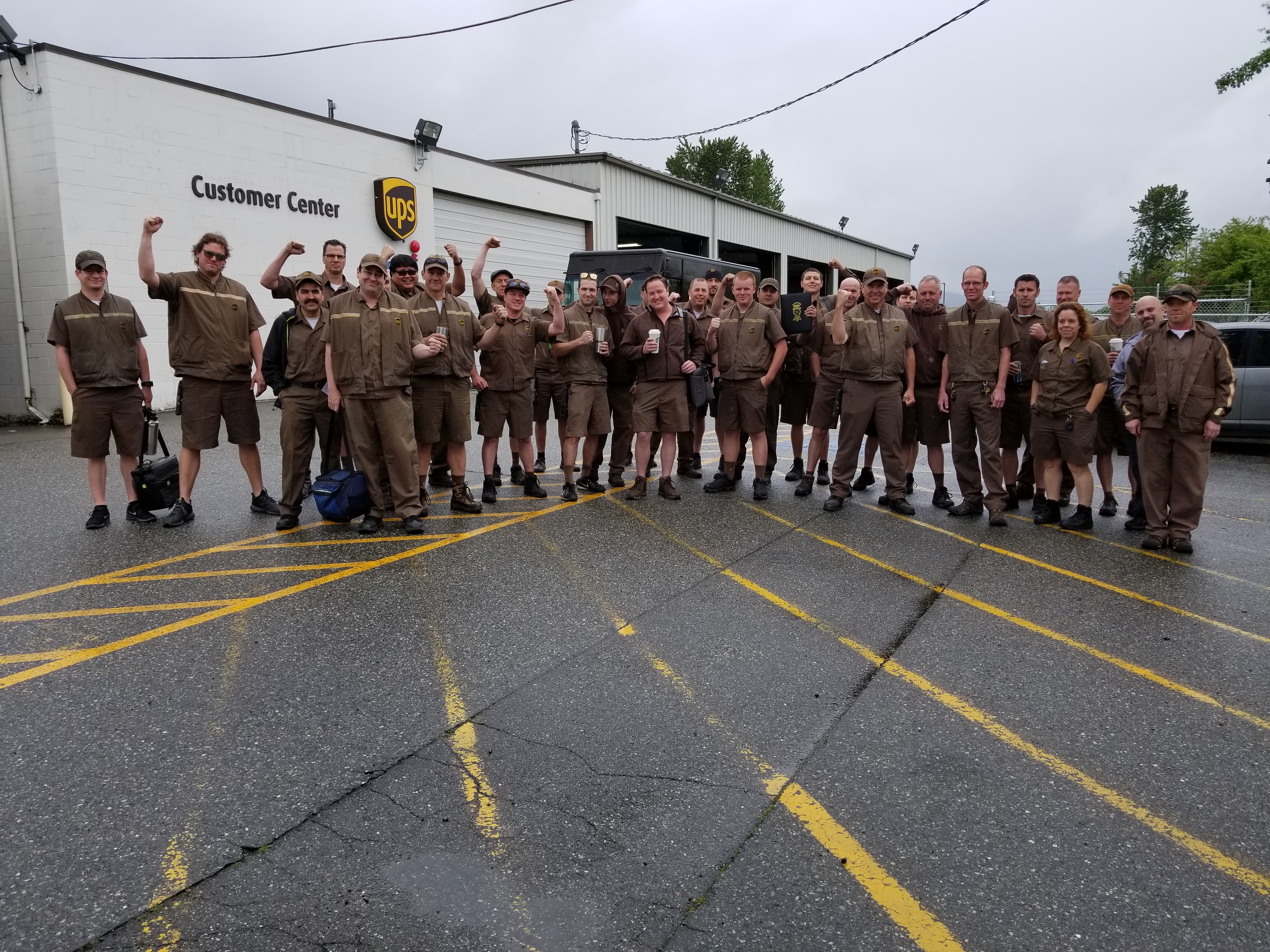 Page Last Updated: Jan 06, 2020 (16:22:00)